The human brain processes visual content faster than any other type of content. Given our love for visuals, it makes sense why video is one of the best tools available to marketers. It's no doubt then why marketers are creating video marketing content at an unprecedented pace too.
With most people unable to concentrate for long periods, video content delivers the intended message quickly and in a manner that's easy to digest.
What's more?
It helps break down complex issues into easy-to-understand concepts for the target audience.
Marketers continue to enjoy success with video content marketing, with up to 92% saying it's an important part of their marketing strategy.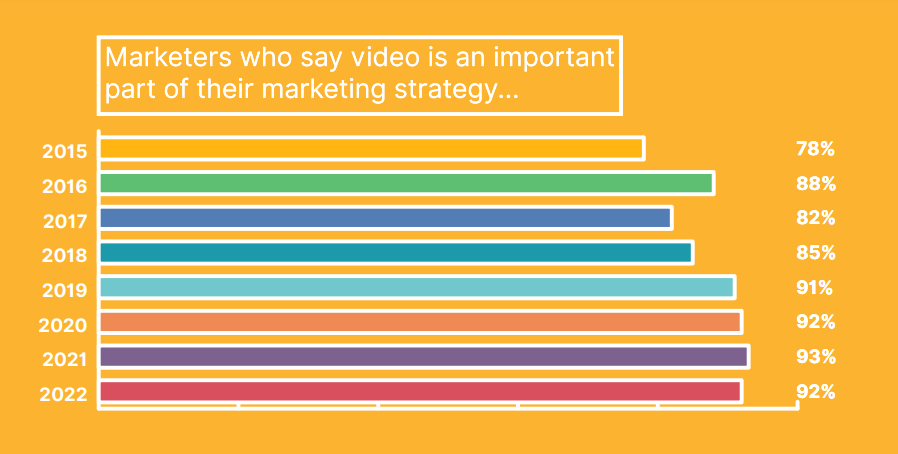 Image via Wyzowl
That said, creating video content can be an expensive affair. Many small businesses have shied away from video content marketing because of the high costs associated with traditional video making.
So, is there an inexpensive way to create video content for marketing?
Yes, there is.
In this article, we will share several tips on how you can create video marketing content on a budget.
Let's get started.
Creating Video Marketing Content on a Budget
Over the years, video making tools have become more accessible to digital marketers and small businesses.
At the moment, anybody can create video content without any expertise and use it for contactless marketing.
However, a video created with a small budget doesn't mean it's of poor quality. Lots of budget videos look polished and professional like the expensive video marketing content out there.
Ready to create video marketing content on a budget?
Whether you have nothing to spend or have a few dollars at your disposal, here's how you can create great marketing videos for your next campaign.
Use Your Phone
The most affordable video making tool sits in your pocket. If YouTube superstars use it to create amazing content, then it's good enough for your marketing content as well.
Using a smartphone to shoot videos is one way to reduce your marketing payments. Most smartphones come with high quality built-in cameras that can be used to create video marketing content.
To get the most out of your smartphone when creating content, the following tips come in handy:
Use a tripod – Be sure to use a tripod when shooting from an elevated position. There are many affordable options online if you need a tripod for your video shoots.
Stay near the phone when recording – Smartphones don't have powerful microphones and this can affect the voice quality of your video. Ensure you are close to the phone when recording to capture sounds clearly. You could also use an external microphone.
Don't use your phone's digital zoom – Since your smartphone might not have a zoom lens, you risk shooting a low-quality video when you use your device's digital zoom.
Use natural lighting – If you cannot afford artificial lighting, use natural light for your video shots. Just ensure you're shooting when there's sufficient natural light to enhance video quality.
Use Screen Recording Software
Do you need to show customers how your software works?
Using screen recording software is your best chance at giving them a preview of your software.
Most of these software are free and allow you to record your screen as you demonstrate how your product works.
Explainer videos are the most common type of videos created by marketers at 74%. And there's a reason for this—96% of people have watched explainer videos to understand products and services.
So, if you're launching a new product and need to demonstrate how it works, don't hesitate to use the free screen recording software available to you.
Want to get certified in Content Marketing?
Leverage the tools and channels to predictably and profitably drive awareness, leads, sales, and referrals—EVERYTHING you need to know to become a true master of digital marketing.​ Click Here
Use Free Video Editing Software
After shooting your videos, you need to edit and combine the parts into one coherent video. Additionally, you may need to beautify the video to make it engaging enough.
You need a video editor for this task, and luckily for you, there are many free video editors available to edit videos in better quality.
The best part about these software solutions is that you don't need to be an expert at video editing.
Turn to Your Customers
Your customers are also a valuable source for your video content marketing. You can ask satisfied customers to share their experience with your products through video and share the content on your social media pages.
User-generated content will help you earn the trust of people who haven't tried your products yet and boost your lead generation. People trust reviews and recommendations from other people more than any other form of brand promotion.
For this reason, setting up a UGC strategy is an affordable way showcasing your customer experience management success too. This is because all the content comes from your customers and all you have to do is share it on your social media pages.
An example of a brand using user-generated content to connect with its audience is Aerie. The woman-wear brand asked its customers to share photos of themselves wearing their products for a chance to get featured on their Instagram page.
To sweeten the deal, the brand donated $1 to charity for every shared post with their branded hashtag.
Image via Instagram
Create Animated Videos
Don't have money to hire actors and pay for an expensive camera crew?
Use animated videos for your video content marketing.
Animated videos are everywhere and easier to produce than other types of video content. Also, there are many easy-to-use tools for creating animations for your video content marketing.
The best animation tools are not free and you'll have to pay a monthly subscription to enjoy their premium features though. For example, you will be able to create videos with your branding elements like brand colors and logo.
The tools also come with simple sharing options to make it easy for you to post the video on social media or share it with a colleague.
Many top brands use animated videos to engage their customers. Starbucks, for example, created an animated video to explain why it blends coffee.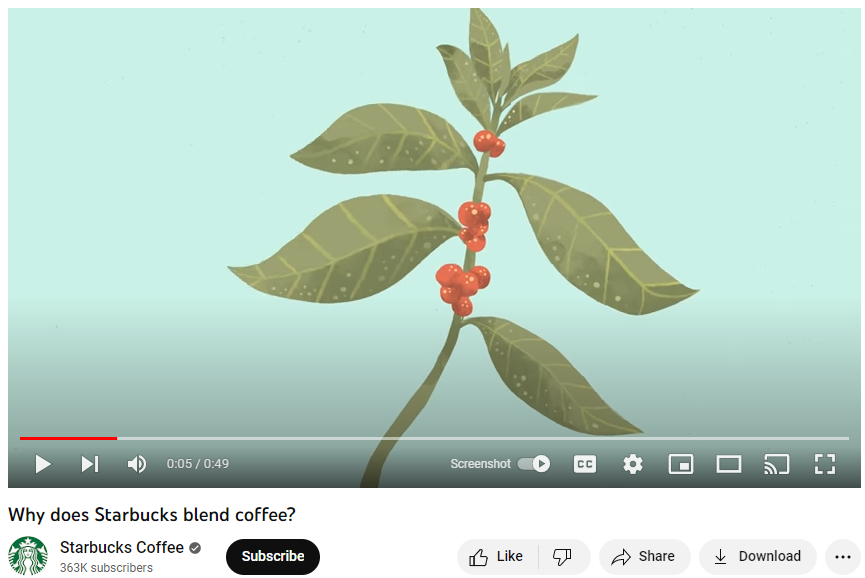 Image via YouTube
Through this simple video, the brand explains why it combines distinct coffee flavors from around the world to achieve its unique blend.
Conclusion
Video content marketing is an effective way to engage your customers online. Videos allow you to deliver your message quickly and explain complex issues in minutes.
From creating animated videos to user-generated content and free video editing tools, there are numerous ways of going about video production without burning a hole in your pocket.
So, go ahead and start leveraging these budget video marketing strategies to drive your brand awareness and sales.
Original Article