To be competitive as a brand, it's essential to constantly offer value to your customers.
Customer value is what makes the wheels of commerce go around. It's what makes your customers buy from you, engage with you, follow your accounts, give you positive reviews, and recommend you to their friends.
If you're familiar with our Customer Value Journey framework, you'll already know a lot about how to create and curate customer value. In this article, we'll zoom in on what customer value is and some ways you can deploy it in your Customer Value Journey.
What Do We Mean By "Create Customer Value?"
"Customer value" is anything that makes your product and/or brand more appealing to customers. By adding value to your brand, product, and customer experience, you bring more decision-swaying benefits to your customer's journey.
"Value" is anything your customer wants, needs, or enjoys. The most obvious "value" is monetary—getting a quality item for a low price is something every bargain hunter enjoys—but it's far from the only "value" available.
Value for your customers can include:
Great product quality
Fantastic customer service
A positive brand presence
Ongoing customer support
Relevant and personalized marketing
A rewarding loyalty program
A positive customer experience
A trustworthy brand reputation
A caring brand community
Let's say, for example, that you are a Canadian telecoms brand. You produce the best business phone system in Calgary, but people still buy from your competitors. How can you bring them to you?
Adding value is the best way to turn the tide of customers toward you. You can do things like improve your customer service, add 24/7 support options, tailor your marketing in ways your customers prefer, produce engaging and educational content, add loyalty rewards, and more.
Why Is It Important To Create Value For Your Customers?
Creating value for your customers is crucial because the more value you can offer, the more likely customers are to buy your product, subscribe to your brand, and ultimately become loyal members of your customer community.
Think of every purchase decision in terms of a pair of scales. For a potential customer to purchase your product, its value has to outweigh its drawbacks.
The most obvious element of the purchase decision is the monetary cost. But there's a lot more to it than that. Things like time, negative experience, and risk also add to the perceived "cost" of your product or service.
For example, if your website does not look safe and professional, your customer may avoid buying your product because they fear credit card scams—even if they would find your product useful and can afford it.
Similarly, if your buying process is too complicated and lengthy, or your customer service could be better, the purchase-decision scales could tip in favor of taking custom elsewhere.
By creating extra value for your customers, you weigh the scale towards the decision to buy. And the more value you add, the better the benefits get.
As well as buying your product, customers who get value from you will return again and again. They will also engage with your content, recommend you to their friends, and boost your brand reputation in general.
All in all, creating customer value is well worth doing. So, how do you go about it?
How To Create Customer Value
Use our Customer Value Journey
Our Customer Value journey is a framework that helps you to understand where and how you can add value to help your customers along their journey to conversion and beyond.
It consists of eight steps: Awareness, Engagement, Subscribe, Convert, Excite, Ascend, Advocate, Promote.
You can find plenty about our CVJ framework, but here's a (very!) brief rundown:
Aware: Get your target audience's attention with content that is relevant and valuable for them.
Engage: Communicate with your customers/prospects. Let them know that you care about them.
Subscribe: Try and persuade your burgeoning customers to subscribe to your emails and follow you on social media.
Convert: This is the point at which your prospect becomes a customer. You can use various value-adding tactics to nudge them through this stage.
Excite: Build on the excitement of a purchase by throwing in added extras.
Ascend: Keep up communication and keep adding value to make your one-time buyer a repeat customer.
Advocate: Ask your happy customer to write you positive reviews, share your content, or recommend you to their friends.
Promote: Keep encouraging your customer community to promote your brand, and reward them for doing so.
Provide Stellar Customer Service
The quality of your customer service can make or break your customer experience. Great customer service adds a huge amount of value to your CVJ.
What does good customer service look like? Well, it ranges from things as simple as sending emails saying "Thanks for your order," to more complex efforts, such as having a fully equipped and responsive customer support center staffed with patient, helpful, and friendly operatives.
Another way of offering great value and customer service is by having a product that will offer unique benefits. For example, offering online business cards with a QR code that automatically captures their information so that you can use analytics and metrics to measure your networking efforts.
Build Community
You can easily add value for your customer by making them feel valued. One way to do this is to focus on building relationships and community with your customers.
You can strengthen your customer relationships through things like sending emails on their birthdays, personalizing your marketing content so that it's relevant for each customer, and generally showing that you are listening to them and you care for them.
You can expand on this by providing space for your customers to communicate with you and one another. Loyalty clubs, social media pages, events for loyal customers, and so on can all help to build a rewarding community that will add value for your customers.
Focus On Quality Over Price
It's a common misconception that making an item cheaper adds value for the customer. While price is certainly an important consideration in purchase decisions, quality often trumps it.
However low your prices are, your customers won't be impressed if your product is low quality. Most customers are happy to pay a bit more for a product that works well, looks good, and will last.
Most customers understand that true quality costs more. So, if you drop your prices too low, customers will automatically assume that your product is low quality.
The old "quality vs. quantity" debate is, to an extent, false—but it is still important that your customers have a good experience with your product. And that means creating something of acceptable quality.
So, we recommend focusing on the quality of your product first and foremost, and deciding the price once you are aware of your profit margins. A quality product that costs a little more will gain you more repeat customers than a poor-quality product at a low price.
Play To Your Strengths
Your strengths are where your true value lies. Maybe you have an excellent customer service team, the best quality product on the market, or a fantastic social media following. Whatever it is that you do best, play to it.
Your strengths form your USP (or, at least, part of it). Your strengths are where your value exceeds that of your competitors. So, make the most of them!
Educate, Entertain, & Engage
Producing great content is a quick and easy way to add a lot of value and boost your brand's presence and reputation.
Blog posts, videos, newsletters, social media posts, competitions, games, and webinars—all of these are great for entertaining, educating, and engaging your customers.
Anything you can put out there that your customers will enjoy or find interesting adds value to your product, no matter what your product is.
Let's say, for example, that you provide online fax services in Canada. On the face of it, this may not seem like a promising topic, but the right content can bring a huge amount of interest to your brand.
You could produce how-to videos, talk about the history of faxing, run case studies, and more. All of it will add value for your audience and bring in new customers.
Reward Loyalty
A loyalty scheme adds value for your customer and directly encourages repeat purchases.
You can use your loyalty scheme to add value in a variety of ways. Many retail businesses use point schemes, in which customers get a certain number of points per purchase which they can then use to offset the cost of later purchases.
Other examples of loyalty rewards can include:
Exclusive content
Free gifts
First looks at new product lines
Discounts
Privileged access to events, products, and services
Enhanced customer service
Boost Your Business & Add Customer Value with A Customer Value Journey
By designing a Customer Value Journey, you will give yourself a head start when adding value.
A Customer Value Journey will show you exactly where in your customer journey to add value and the form it should take.
Are You Ready to Master Social Media?
Become a Certified Social Media Specialist and learn the newest strategies (by social platform) to draw organic traffic to your social media sites.
Click here
For example, a speedy and safe website adds value at the point of sale. It encourages people to convert quickly and with confidence.
After a sale, a loyalty scheme and follow-up emails reinforce your customer's positive experience and help strengthen your brand/customer relationships.
At all points, a positive brand presence, rewarding content, and a quality product are brilliant for adding value for your customers.
So, to give your customers the value that they deserve, sit down and plot your Customer Value Journey.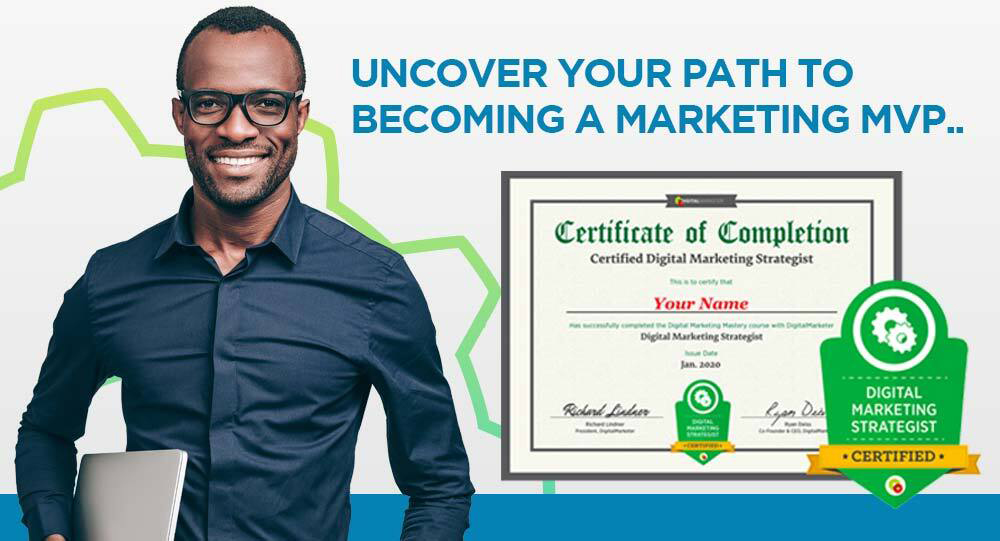 Original Article